2019 Business Hall of Fame: Jason "Jay" Lucarelli
MinuteMen Staffing and HR Services president and CEO leads the march to prominence in the human resources services market.
By Lynne Thompson Cleveland Magazine, November 1, 2019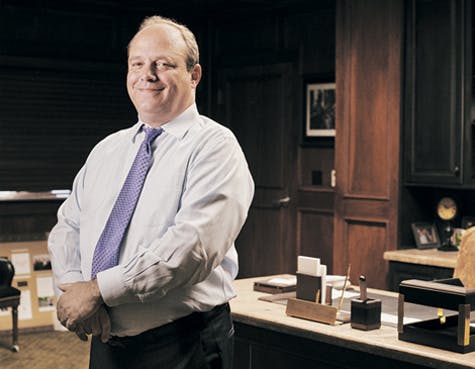 Jason "Jay" Lucarelli's diggs at MinuteMen Staffing & HR Services' Midtown Cleveland headquarters is a sort of shrine to his father. After Samuel (Sam) Lucarelli, company founder, died in November 2013, his second son officially took the title of president and CEO, along with his office and marble-topped desk. He redecorated the space to approximate the office he remembered visiting in the early 1970s, when the business was based out of a building on East 18th Street between Carnegie and Prospect avenues.
"I just remembered it had wood walls and green carpeting — I would literally have dreams of that," Lucarelli, now 51, says. "So we redid the office with the wood walls and the green carpeting."
Since Lucarelli took command of MinuteMen six years ago, he's continued to lead its march to prominence in the human-resources services market. MinuteMen Staffing still places approximately 10,000 unskilled and semi-skilled workers with light industrial clients annually via 26 offices in Kentucky, Illinois, Michigan, Ohio and Wisconsin. Three other divisions do everything from recruit truck drivers for the transportation industry to handle workers compensation claims and other human resources department functions for clients. Together, they employ approximately 450 full-time professionals and netted MinuteMen $300 million in revenue last year.
Yet Lucarelli remains the same gentle, soft-spoken man who joined MinuteMen more than 30 years ago.
"He is an incredibly down-to-earth, family-oriented, passionate individual who feels a strong sense of legacy," Tri-C Foundation President Megan O'Bryan observes. "He is so proud to continue his father's legacy."
Sam Lucarelli started MinuteMen Staffing in 1968 with money saved from driving a truck for a beverage distributor. The natural salesman generated business for his startup at the inner-city factories on his route.
"He always made sure he'd hit the factories in the morning and fill up the [soft-drink vending] machines," Lucarelli says. "He would grab the supervisor and say, 'Hey, are you short of any people today?'" The fledgling entrepreneur would explain that he could fill the shortage with temporary workers.
Within months the elder Lucarelli was able to quit his job and focus exclusively on building his business. By 1972, he had branched into leasing truck drivers he put on his payroll to clients that would include names such as TRW, Parker Hannefin and Goodyear Tire and Rubber Co.
Lucarelli was driving inner-city MinuteMen workers to suburban jobs in the company van by the time he was 16. After graduating from Kenston High School in Chagrin Falls, he joined his father, paternal grandfather, uncle and cousin to run MinuteMen Staffing's dispatch counter.
"We worked from 4 in the morning 'til sometimes 8, 9 10 o'clock at night," he remembers.
During the next few years, Lucarelli learned the sales side of the business handled by offices in Cleveland, along with one location each in Columbus, Cincinnati and Chicago. The financial side followed.
In 1992, he leveraged MinuteMen's expertise in administering its leased truck drivers' health insurance, workers compensation and other benefits to enter what became the professional employer organization industry by launching Complete Personnel Management. "We started Complete Personnel Management to kind of be the employee-leasing company outside of the transportation industry," he explains. Three years later, he used the company's payroll system to offer a separate payroll service, Complete Payroll Management. (The two divisions subsequently merged to form MinuteMen HR Management Services in 2008.) The state's privatization of workers compensation processing prompted Lucarelli to start yet another division, 1-888-Ohio Comp, in 1998. It is now the third-largest operation of its kind in the state.
Lucarelli has continued his father's tradition of giving. Jeff Epstein, executive director of the economic development corporation Midtown Cleveland, notes Lucarelli's support of Midtown Cleveland's special improvement district program that property owners would have to tax themselves to finance.
"Jay immediately saw the potential for that program, was instantly supportive and willing to put his name behind it and help lobby other property owners to participate," he says.
In 2014, Lucarelli established two scholarship funds in his father's name, one at the Cleveland Metropolitan School District and one at Cuyahoga Community College for Cleveland city schools graduates enrolling in programs preparing them for work in high-demand fields such as manufacturing and information technology. He joined the Tri-C Foundation's board of directors the next year because he was impressed by the school's scope of vocational programming.
"He wants to make a difference in people's lives," O'Bryan says. "And one way he's choosing to do that is by engaging with a community college that is making the American dream possible for individuals like his dad and their families."
Lucarelli accepted an invitation to join the MetroHealth Foundation's board of directors last year. Activities such as sponsoring the Independence-based Up Side of Downs' annual Buddy Walk and maintaining a seat on the board of directors at Lakewood-based Awakening Angels, which funds biomedical research and initiatives aimed at improving the lives of those with Down syndrome and autism, is personal. His and wife Lanee's son, Max, 10, has Down syndrome. But his involvement is motivated by a very basic belief.
"We've been fortunate, we're successful in relative terms," he says. "You're supposed to give back."
Lucarelli isn't done growing MinuteMen. Last year, the company launched Staff HR, a division that recruits and staffs HR professionals. "We're also implementing what we call a fractional HR service," Lucarelli adds. His main focus, however, is expanding MinuteMen's geographical reach. At press time, a 27th office was scheduled to open in Atlanta before the end of the year. "Our vision is to eventually be in every major city in the country — or at least every state," he says. His passion for the business his father started isn't waning.
"I still love it to this day," he declares. "I can't wait to go to bed so I can get up the next day to come to work."